Resort Activities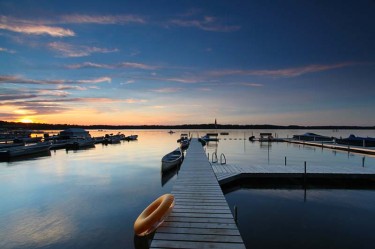 THE LAKE
Lower Cullen lake is the largest of the 1300 acre Cullen chain of lakes. Our beach front is clear, shallow, sandy and perfect for all ages. The kids can catch sunnies right off the docks. At 512 acres, the lake provides the perfect habitat for game and panfish alike and is ideal for family fishing as well as water sports. Try kayaking, canoeing or paddle surfing. Take a canoe down nearby Cullen creek. Unwind in our lakeside hammock or join in the fun at the beach. Dock your boat at our well planned harbor. Launch at the nearby public landing. Spend an afternoon on the water in the comfort of our 20' pontoon or rent an 8 hp. motor for the week. Your cabin includes the use of a 14' aluminum fishing boat, oars, and life jackets.
Lake Map ⋅ Boat Rentals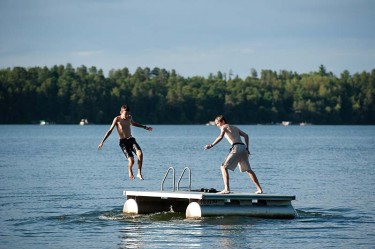 Use of the following items is included with your stay:
⋅ 14' aluminum boat and oars
⋅ Canoes
⋅ Kayaks
⋅ Paddle Boat
⋅ Paddle Boards
⋅ Life Jackets (PFDs)

The Trail
Here at Eagles Nest we are fortunate to have the Paul Bunyan Trail at the end of our driveway. The asphalt trail stretches 112 miles from Brainerd to Bemidji. The resort is situated adjacent to the trail at approximately milepost #17. Our fleet of adult one speed bicycles is at your disposal. We recommend and supply helmets. We also provide a child size pull behind trailer and a tag along ride-behind bike. If you have a bike rack or room in the boat be sure to bring the bikes along, especially the kids' bikes since we're not able to provide youth bicycles. Whether on a bike, blades, or a leisurely stroll, the trail can provide hours of enjoyment and access to some of the most picturesque terrain in our state. We highly recommend you make use of this wonderful asset while staying with us.
Kids Stuff
They'll make new friends quickly and will want to meet on our two-acre playground to play on the jungle gym and swings. Older kids will enjoy playing volleyball, basketball, tetherball, horseshoes and badminton. Perhaps they'll want to explore the ¼ mile nature trail. Our Monday evening campfire with s'mores is always popular. A trip into Nisswa for the weekly Turtle Races is a must. The Friday morning scavenger hunt is a tradition with a twist. All this and there's still THE LAKE!
The Nest
Our non video-game rec-room sits behind the parking lot and is the spot to visit if you're looking to borrow a good book, puzzle, or board game. Perhaps you'll find someone to play a rousing game of ping-pong or skittles! On a rainy day you can meet up for board games or a day of jig-saw puzzles. Join us there on Sunday mornings in the summer for a continental breakfast.